Last night I went and got the outline done for my third tattoo! It's so big, and surprisingly didn't hurt much in the two hours it took to outline. The only really sensitive places were close the underside of my arm and the very top near my shoulder.

I have been wanting flowers for quite some time, and I finally found the ones I wanted: Peony, Anemone, Dahlia, Gerbera Daisy and Lily Bells... my guy drew them up and I saw the stencil for the first time last night, and the first thing I thought was, "WOW that's huge!" I can't wait to see what it looks like when it's colored in though.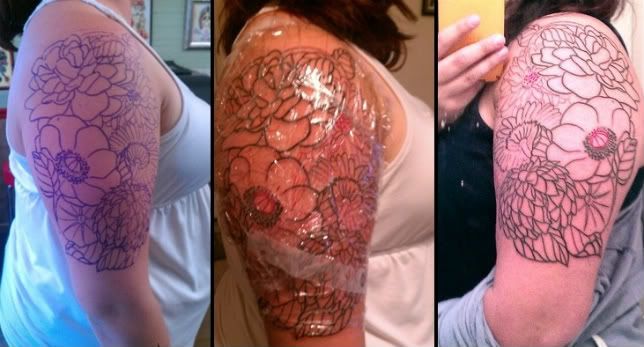 *Third picture is a crappy mirror pic.



I was able to remove the wrapping this morning, and I've taken a picture and sent it to my email from my phone, but it takes a while so I'll have to update it when I get home from the dentist. It looks a bit odd because I've got really dark outlines and then I've got the really light ones, but it's because the darker ones will be in the foreground while the lighter ones are in the background and will be a softer color.

I had my fun last night, and today, I have to get a tooth pulled. *sad face* My tooth has been very sore and felt a bit loose, and suddenly my gum swelled up, so I went ot the dentist and found I had an absess and my tooth / gum was really infected. (Gross, huh?) I've been on antibiotics for eight days and the swelling is practically gone, so I go in today. I'm so exhausted from not really sleeping much last night. I was anixous about my dental appointment and my arm kind of hurt, haha. Let's hope I can get a nap in today.